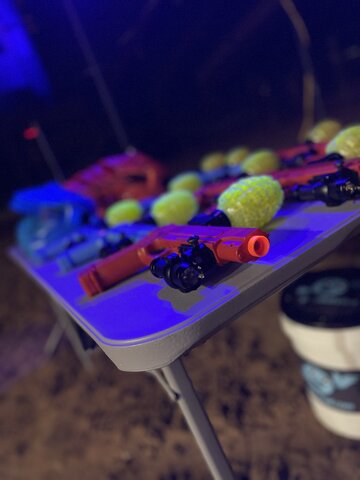 Gellyball - UV/Blacklight Party Package
Setup Area: "50'x30'"
Age Group: 5-99




Throw an awesome party with the Gellyball UV/Blacklight Package!
Gellyball is a low impact, low sting, cross between airsoft and paintball. This is perfect for ages 5+. The Gellyballs disintegrate on impact leaving no stains and no mess to clean! We bring the party to you with our mobile Gellyball party packages. We can use your natural cover such as woods, trees, bushes, out buildings etc. Or we can bring our inflatable bunkers like you see on paintball fields.
The parties are 1.5 to 2 hours long depending on which package you choose. We have a staff member on site to facilitate the different games, referee the matches, enforce safety rules, and ensure that your Gellyball experience is fun, exhilarating and most of all SAFE.
UV/Blacklight Package Includes:
2hr party - 15+ games
Max of 12 players. $25 extra per aditional player.
Unlimited ammo
UV activated Gellyballs
UV lights to shine the area
UV lights attached to each gun